Creative Arts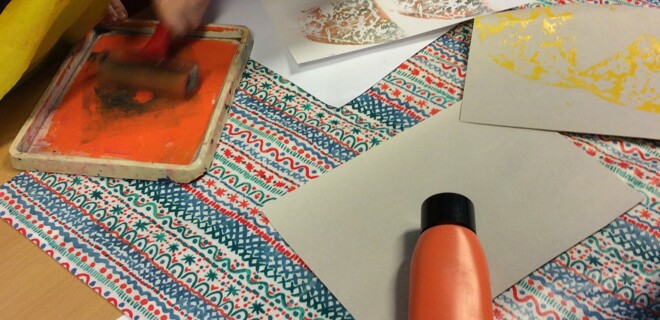 Art Skills progression document
Art Vocabulary progression document
At Hugh Myddelton we aim to make art accessible and meaningful to every child in our school. Children will be encouraged to be curious about the visual world. We aim to develop their skills and confidence in using materials and techniques, encourage them to use their imagination, to reflect upon their own work and that of other artists, and foster within them an interest in the world of art and design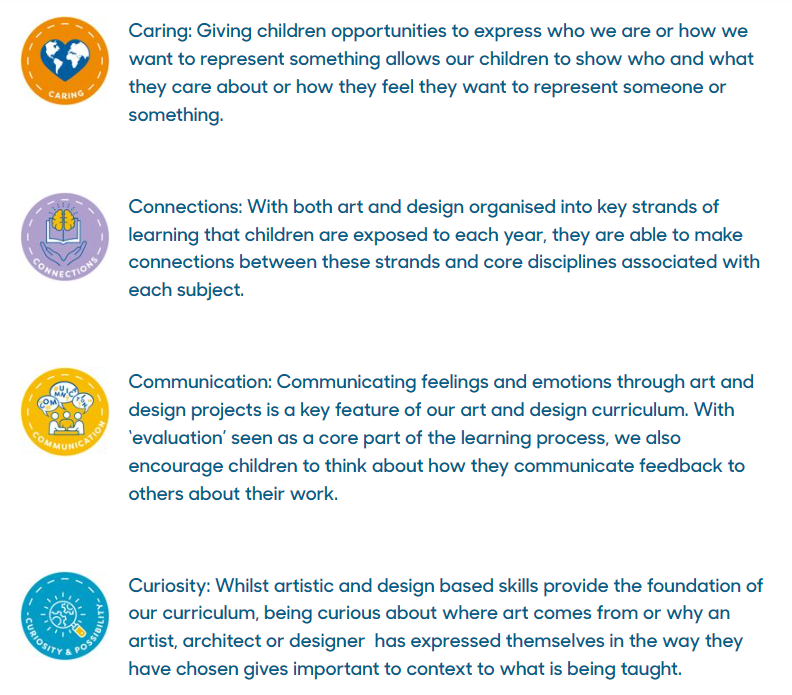 Our aims in teaching art are that all children learn to:
· Find enjoyment in art and creativity.
· Hold a positive self-image and confidence.
· Discover a sense of purpose and fulfilment in artistic expression.
· Appreciate a wide range of artists and art works.
· Experiment with a range of media.
· Use a range of materials and techniques competently.
· Develop their observation and description skills.
· Express ideas and feelings through creative work and in both two and three dimensions.
· Value and respect their work and the work of others.
· Discuss their work using appropriate vocabulary.
We regard art as an important subject because:
· Artistic creation can provide fulfilment throughout life.
· Artistic observation can heighten perceptions.
· Art can contribute to cultural understanding.
Please click for more details of the National Curriculum Programmes of Study for Art and Design in Key Stages 1 & 2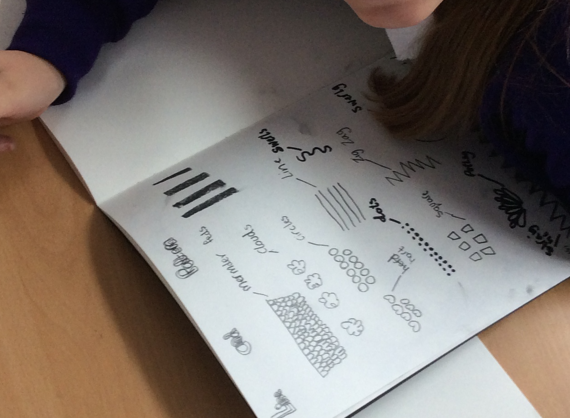 Through our skills based art curriculum the children use sketch books to show a visual journey through a project. The children have opportunities to :
Connect with a range pf artists
Observe objects, people and landscapes in detail
Explore a wide range of art processes and visual elements
Design and Create individual artwork
Evaluate their designs and masterpieces
Art and design links to our wider community
We are lucky to be based in such a creative and diverse part of London. This year pupils at Hugh Myddelton have had the opportunity to work with lots of incredible local buisnesses, this includes: projects as part of our partnerships with Saddler's Wells Theatre and Little Angel Theatre, working with retaillers such as Muji and a historical mural project with fantastic local artists.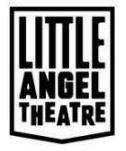 We are very proud to be partnered with Little Angel Theatre, who are a theatre company situated locally to us in Islington that specialise in using puppetry in their story telling.
"Little Angel Theatre (LAT) has used puppetry to create and share inspiring stories since opening its doors in 1961; igniting the imaginations of the youngest minds. The theatre's success has been built upon a spirit of artistic innovation. We are committed to pushing the boundaries of what puppetry can be, whilst preserving its heritage."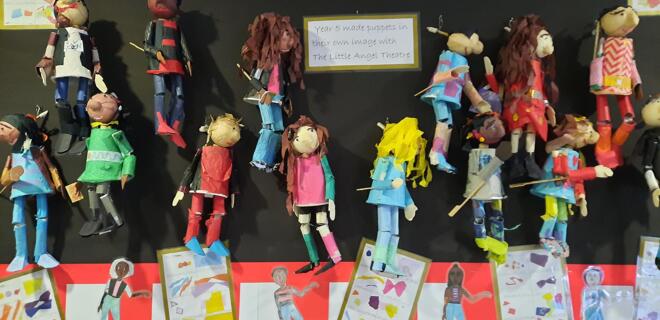 Art and Drama Clubs
We have a range of extra curricular clubs for your child to participate in at Hugh Myddelton including: French art club, Drama with Almedia Theatre, Crafty Kids, Painting Club, Recycled art club And Yinka's Craft Challenge, which clubs are on offer changes each term- please see the extra-curricular-clubs page to see what's on offer for this term.
Hugh Mydelton Arts Week 2023!
19th-23rd June 2023
Read all about the exciting events we have planned for arts week here.