Early Years
At Winton, we believe every child is unique, with questions and ideas about the world that we seek to develop and enrich within an environment that nurtures, supports and challenges inquisitive minds.

Caring: Throughout the Early Years, children will begin to identify and manage their feelings, their behaviour and reach out for help where necessary. We model and support children to build and manage healthy relationships and explore self-control. Building personal, social, and emotional skills in our youngest children supports them to become caring and empathetic individuals.

Connections: We value children's desire to know, their inquisitiveness, wonder and their eagerness to understand and know, inspires their exploration and play. Through their play, we encourage children to make connections between the world around them and experiences they have had, nurturing them to ask questions, 'What is it?' 'I have seen this before, but it looks different.' 'What can it do?' 'What can I do with it?'. These questions raise new connections for children to make and problems for them to solve.

Communication:We know speech, language, and communication are critical areas of development for our youngest children. They play a vital role throughout our lives, helping us to understand what is going on around us, communicate our basic needs and feelings, hold conversations, think and learn, develop relationships, solve problems, and more. Oracy and language is vital for our children and is always prioritised to support our children to become effective and confident communicators.

Curiosity: Curiosity lies at the heart of children's learning – it is the spirit of enquiry. At Winton, we understand that early childhood curiosity drives children's desire to explore, to ask questions and to play. Children learn most deeply when they are following their natural interests, as it places them at the centre of their learning. We embrace children's ideas and wonder, as we know this leads our children to learn about the world around them, reasoning and solving problems.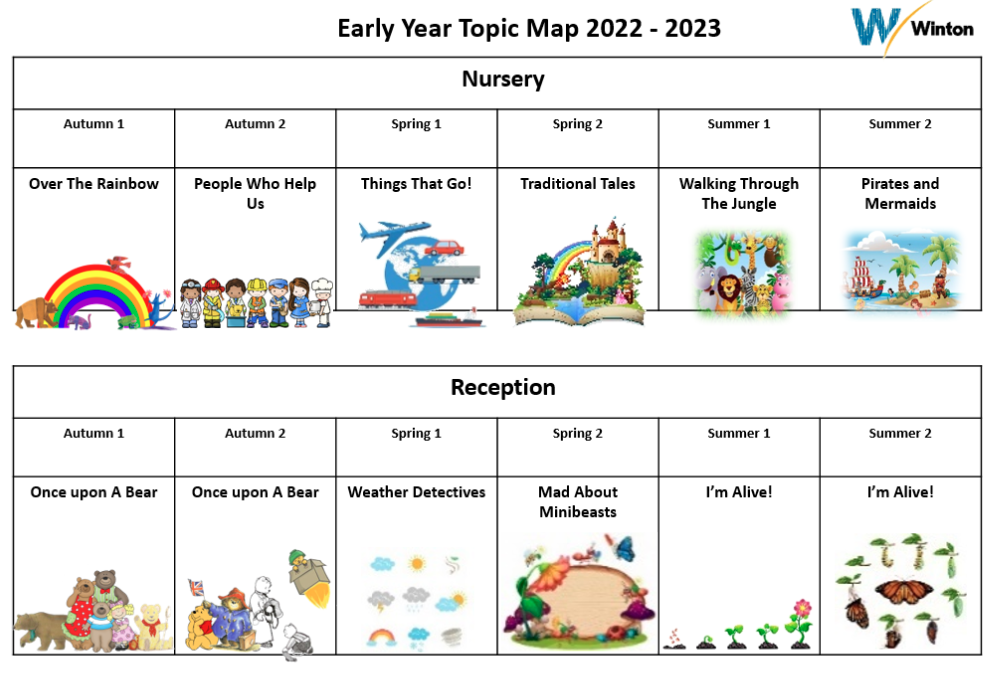 Winton Early Learning GoalsDevelopment Matters - Birth to ThreeDevelopment Matters - Three and Four Year OldsDevelopment Matters - Reception