Maths
From the earliest point of entry and laying the rich foundations of understanding number in our EYFS settings, to tackling multi-step and open ended content in their later years, we see mathematics as an essential cornerstone in our children's development. Through a programme of content that is ambitious for all our children, we aim to ensure that maths equips Winton pupils to excel in the subject and maintain a lifelong appreciation for the subject.

Caring: We care greatly about our children seeing maths as a vital tool to excelling in life and we look to instil this in all of them as well as caring about how 'good' they feel they are at the subject. Ensuring that they tackle maths with confidence and resilience is key.

Connections: With maths an inherently interconnected subjected, our curriculum is structured in a way that allows children to constantly make connections through revisiting content in meaningful ways as well as looking to connect different disciplines and appreciating why there are so important to one another.

Communication: Being able to say "I know that…" and "I know how…" is crucial for a child to be able to express in maths, but we also place great value in them being able to say "I know when…" and "I know why…" and constantly providing them content that pushed them to explain their thinking in relation to maths.

Curiosity: Whilst core facts and processes are the foundation upon which children access maths, our curriculum provides a wide range of content that pushes them to apply their knowledge, to reason, to explain, and be curious as to why a solution or method is an effective way of tackling a problem.
For more information about how we teach mathematics:
Maths Progression Overview 23-24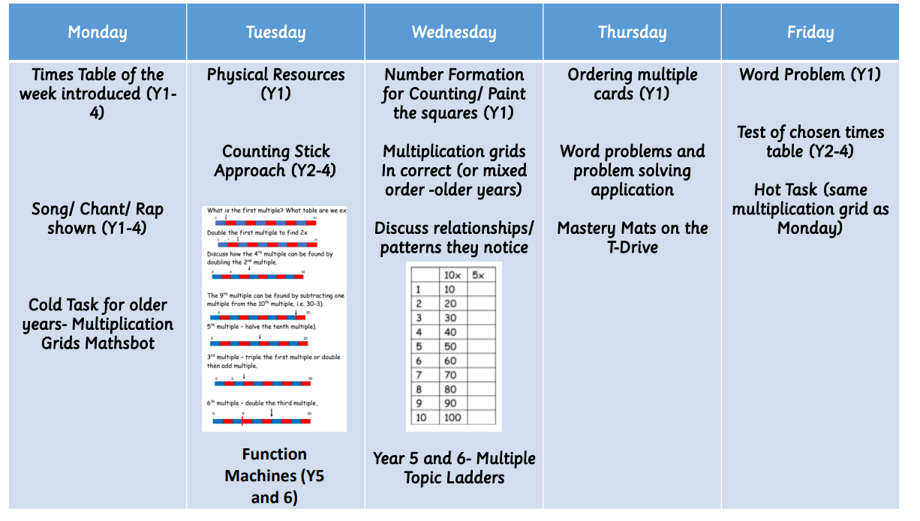 Year 1 Yearly OverviewYear 2 Yearly Overview Year 3 Yearly OverviewYear 4 Yearly Overview
Year 5 Yearly Overview Year 6 Yearly overview